I've seen countless, wonderful posts about baseball, softball, basketball, wrestling, hockey, football, gymnastics, swimming, band, track, volleyball, robotics, cheer, lacrosse, dance, ski team, drama, karate, and soccer. Now that the season is done, and my boy is a man, I'd like to share a largely unknown bit of our life, to educate and share my pride.
Throughout high school, Ryan has competed in air rifle and smallbore rifle against hundreds of other youth across the state, region, and nation. Next year, he's earned a spot on the NCAA rifle team at the University of North Georgia, and will be one of only about 300 student-athletes competing nationally at that level. Perhaps one of 75 or so freshmen. It's an amazing honor.
Rifle is fascinating. It's a rare NCAA sport where D1s, D2s, and D3s compete directly, and where men and women compete side-by-side, with and against each other for individual and team scores, which is awesome. Women dominate. Also awesome.
The NCAA champion this year is an all-women's team. Eight of the top ten individual scores this season are held by women. A woman shot a 599 (out of 600) in the NCAA Championship this year, breaking a six-year record…held by another woman. Ryan's coach the last two years, as well as his coach at UNG, are women who were top shooters themselves. It is wonderful for Ryan to see and experience all this.
Rifle is also one of the original sports of the modern Olympics, dating back to 1896, and remains one of more than a dozen shooting events in the winter and summer games. Also pretty awesome.
So, this is really, as someone once asked me, "a thing."
From cold morning practices to clinics and matches across Connecticut, New York, Pennsylvania, and Ohio, the last few years have seen his weekends and summers centered on the zen of marksmanship.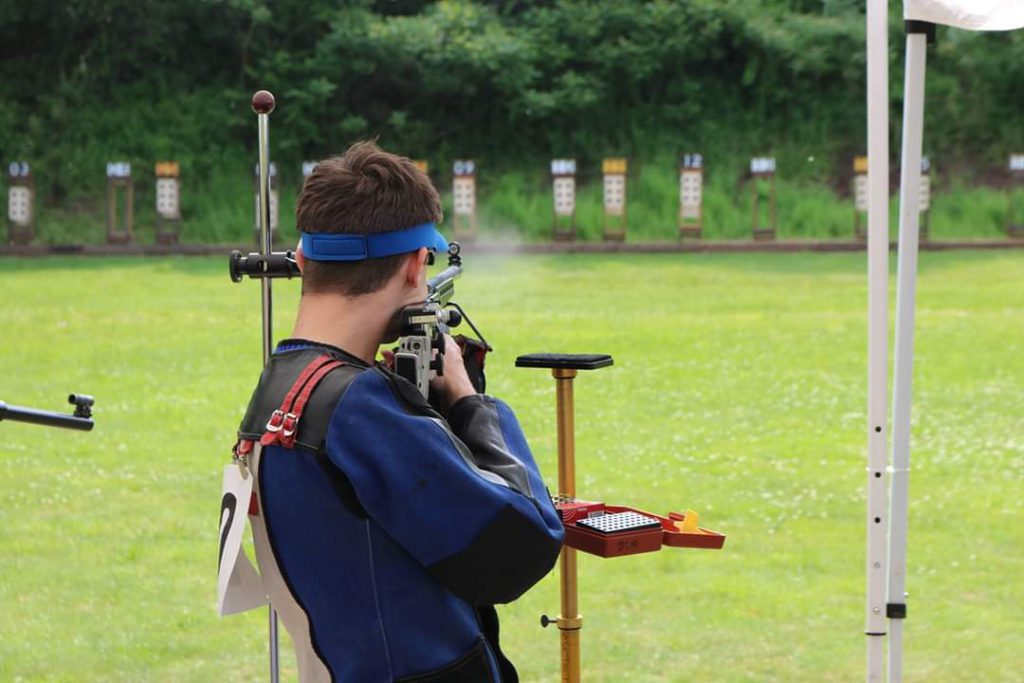 Like all disciplines, it's a mental activity first. Anyone can pick up a target rifle and shoot decently. They're amazingly precise instruments.
But it takes a dedicated person who can regulate their breathing, clear their mind, focus on the precise placement of every element of their body, and hoist a 13-lb rifle onto the target, 20, 40, 60, sometimes 120 times in a row, with standing–the most challenging rifle position–saved for last, when you're exhausted, running out of time, and fighting your own mental battle about how you've done so far.
You're wearing a rigid jacket, boots, gloves, and pants, whether it's 30 degrees in the ventilated range or 95 outdoors. You're covering your nonshooting eye, limiting your field of view with visors and contraptions, watching your sights weave and bob over the two-inch target with every minor movement. When everything is aligned just right, you gently squeeze the trigger and follow through. There's a light crack, a small tap of recoil, and lasers and computers calculate your precise accuracy. You get instant feedback on a small screen next to you. Sometimes that's good, sometimes that isn't. The unforgiving, running sum of basic addition up to a perfect 600 taunts you. You reload and do it again. And again. And again. And again.
It's a discipline of intricate, near-obsessive attention to detail. The difference between the perfect shot and a mediocre one is barely bigger than a pinhead. Everything matters, every shot.
Rifle requires maturity, smarts, discipline, strength, fine motor skills, judgment, sharp vision, muscle, mindfulness, focus, and patience. It's an unfair generalization, as much as any other stereotype, but rifle seems to attract a fair share of Eagle Scouts, as well as top students.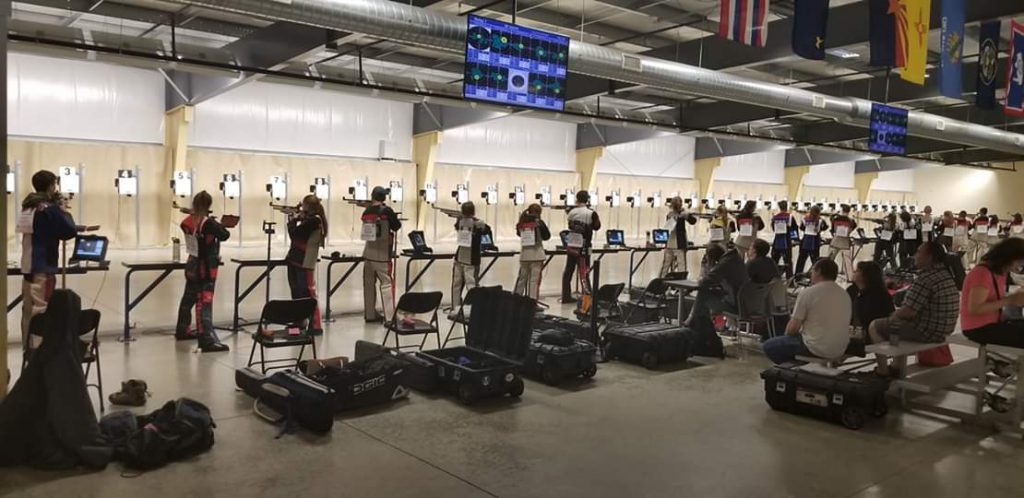 Is it dangerous? Define "dangerous," but no. It's been yet another injury-free season on the team, but Ryan's coach records plenty of missed practices because of football, soccer, or skiing injuries.
I worry about Ryan driving to practice far, far more than practice itself.
There are several local junior rifle teams. Yes, here in Connecticut. Many private schools, but some technical schools and even public high schools. When you look at the NCAA shooters from Connecticut and Massachusetts, you'll generally find a connection to Ryan's home range, Blue Trail Range in Wallingford, "home of championship shooters." This year, to experience a top-notch electronic collegiate range, we joined a league that shoots at West Point; so humbling to walk its hallowed ground.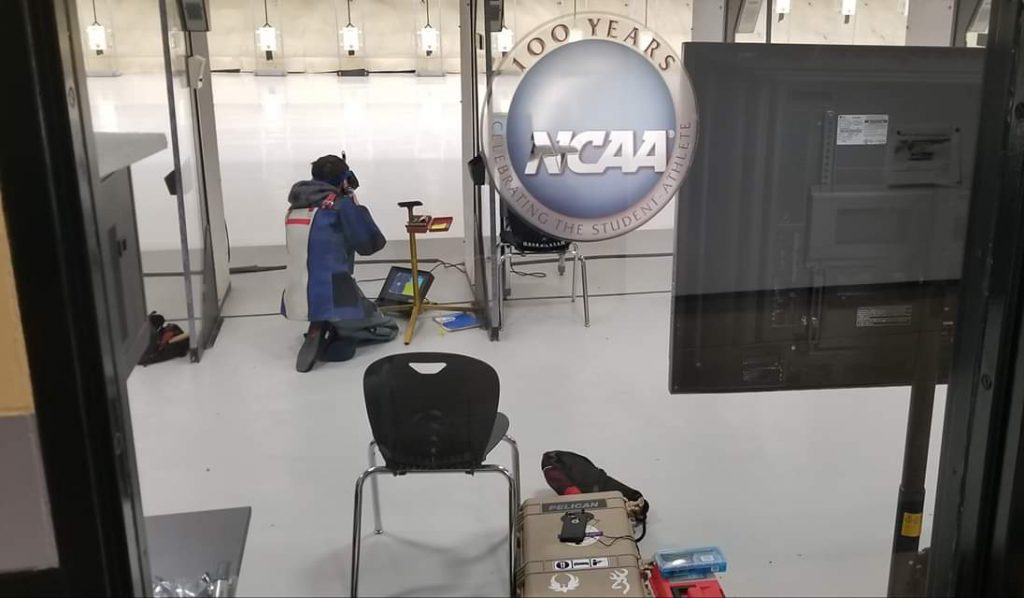 Although the sport is on the upswing nationally in recent years, there used to be many more teams. Explore old high school basements and you may find a rifle range, now sheetrocked into offices or storage. People barely older than me recall bringing their rifle cases on the bus to school for practice. Some local tournaments are proudly going on 80+ years.
I know this discipline zigs where some people zag. I'd say I understand but I truthfully don't despite trying. Nonetheless, we have been aware of the need to be discrete, which is why I've generally not mentioned it. A shame that we're at that point in conversation and society.
The misconceptions have been enlightening to clarify. No, his team is not "training to be snipers" any more than someone who does javelin is training to spear things, someone who plays hockey is training to shove people into walls, someone who does robotics is training to make a Terminator, or someone who dances a perfect Swan Lake is training to become a bird.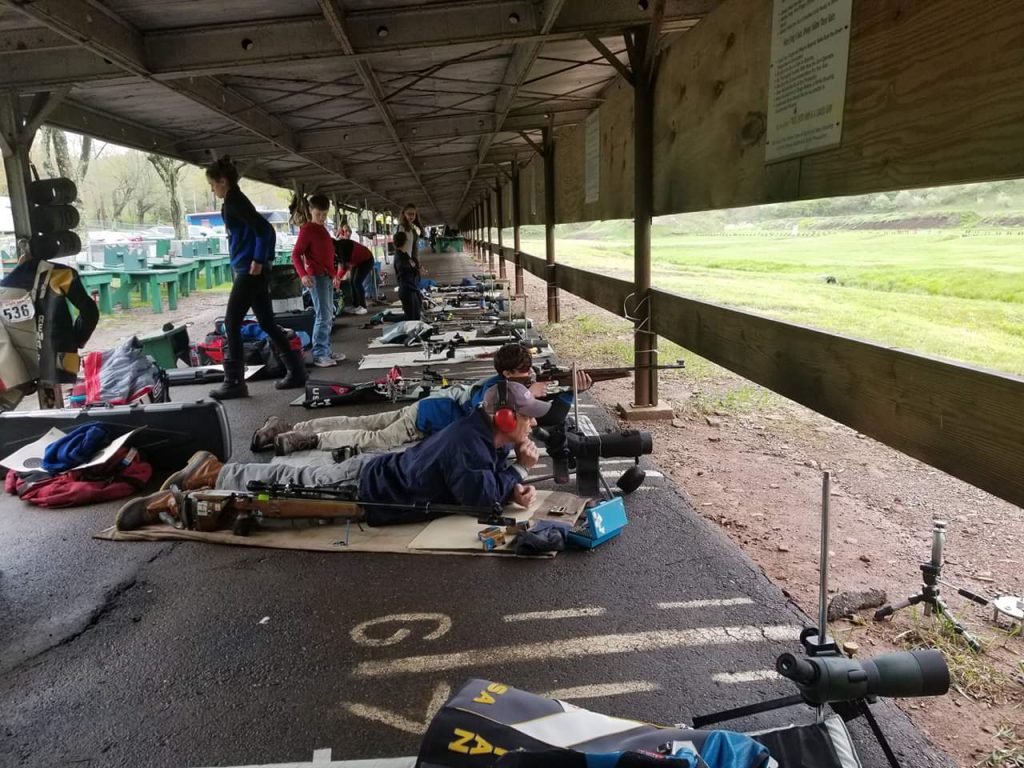 The coaches and facility at Blue Trail Range have been wonderful, steered him in profound directions, and connected him to interesting, caring people. I'm grateful. He's found some good friends and mentors. He got a great part-time job, coaching younger shooters and doing physical work at the range. He comes home dirty and tired, but enjoying work. May we all be so lucky.
Never an immature kid, his better personality traits of responsibility and inquisitiveness have been strengthened, and coaching has helped him to grow, speak up, and lead. Not the type of "leadership" accolades we give out to kids like trinkets, but real responsibility to serve others through guiding them in serious matters.
Most importantly, because of rifle, he found colleges below our radar that offered him significant merit aid unrelated to the sport, as well as a few scholarships for collegiate shooters. It opened doors he didn't even know existed.
Because of his aspirations to shoot at the NCAA level, he got practical experience interviewing and communicating with four very different coaches, selling himself, and working toward big goals.
There have been some fun and some not-so-fun moments, like everything. But it's a great little community, in general, and it's been a great experience.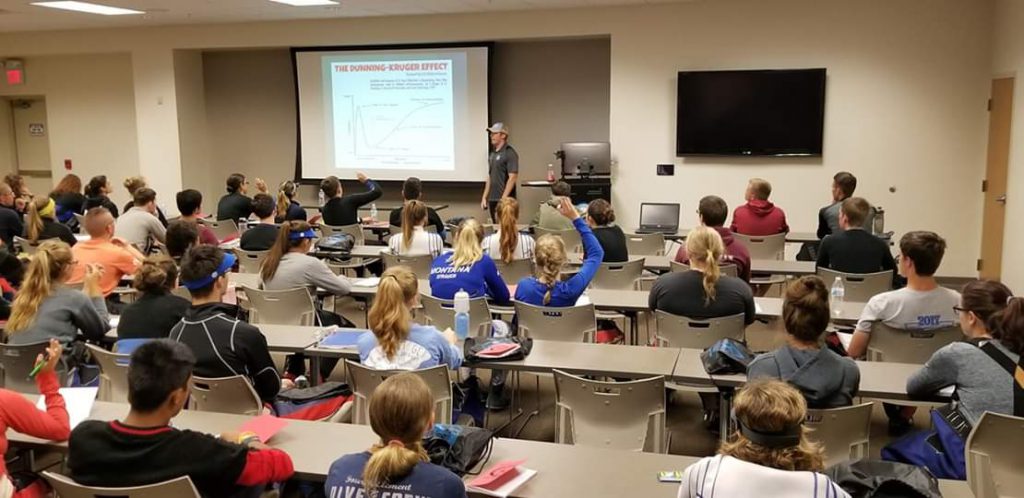 It provides challenges for a lifetime, and his local league has more than a few men and women his grandparents' age. Who, I should add, often outshoot the kids. He's learned that asking "an old guy" for advice usually gets you pretty good advice, and they've been universally gracious with their time, guidance, and lived wisdom.
One inspired me, sharing that he thought the sport aligns perfectly with the quote from Browning (Robert, not John), "Ah, but a man's reach should exceed his grasp, or what's a heaven for?" A writer, I couldn't love that more.
The lessons learned on the range will stay with him for a very long time, which is why people pursue interests, isn't it?
Think 10, as coaches say. Every moment, every shot, is a chance for perfection and redemption. And in target shooting, as in life, the small stuff is the big stuff.