I wasn't an unusually avid fan of Bob Saget, so his death didn't particularly strike me hard. Still, reading the posts from those who were fans, he seems to be a guy who made people laugh and enjoy life, and that's pretty damned good praise. You can say his life was cut too short, or you can say it lasted precisely long enough to give that much joy.
Every day, I carry in my pocket a coin with a stoic expression on it. Depends on my mood, and what's ahead that day, to the degree I know. But there was only one choice today, which is coincidentally my favorite: Memento Mori. Remember that you have to die.
At 51, it's no longer shocking when someone my age dies, not like it used to be. It also is a reminder that we all have that unknowable date on the calendar ahead of us and every breath is one more toward it. A million more? A thousand? Two? No way to know, and the older I get, the less I think there's much we can do about it.
So, this coin. It's a reminder. To live larger. Laugh too much. Care less what people who aren't you do; you can only (and barely) control yourself. Go about your day with the rule of five in your head…will this matter in five minutes? Five days? Five years? And when you start applying that, not much will.
Not much you can do, not when you see what fate did to others, the prepared and the unprepared, the heartbreaking deaths and the ones where death was a blessing.
Poor, rich, liberal, conservative, black, white. It's the only thing we have in common. A loss of control that makes us realize that there is nothing to do but love this next breath, live this next breath, and be the best you can be in that short time. Rinse, repeat.
Memento Mori. Remember that you have to die. And remember this moment is your chance to live.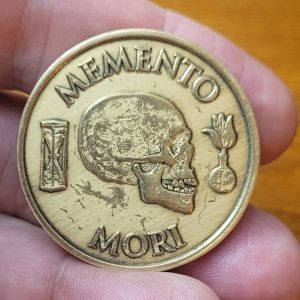 Addendum: You can buy the Memento Mori coin from The Daily Stoic. I don't receive any benefit or proceeds from the link, but it's a great site, and I encourage you to read more there.